Now offering Start Smart Basketball and Soccer!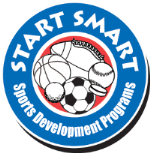 Start Smart is a developmentally appropriate introductory soccer program for children 3-4 years old. The program prepares children for organized sports in a fun, non-threatening environment.
Start Smart prepares children and their parents for organized soccer without the threat of competition or the fear of getting hurt. 
Please note that this is a skills development program and not a sports league.Games will NOT be played against other "teams" other than the last three sessions as scrimmage games.  No practices, one session a week for 9 weeks.  
Parents must participate at each session with their child.  
Each Start Smart Soccer participant receives: 
1 T-Shirt
1 Participant Manual
1 Teslon Soccer Ball
1 Size 3 Soccer Ball
1 Set of Shinguards
4 Cones



Each Start Smart Basketball participant receives: 
1 T-Shirt
1 Participant Manual
1 Mini Basketball for dribbling
1 Teslon basketball for shooting, passing, and catching
4 Cones